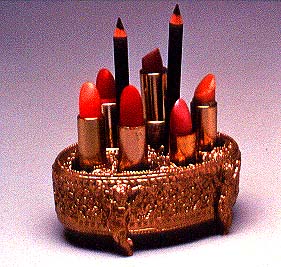 "Robleto continues to tell the history of popular music that relies on complex and intertwined degrees of separation. In the case of I've Kissed Your Mother Twice and Now I'm Working on Your Dad, the cast of an antique lipstick holder is crafted from three melted records: David Bowie's Rock 'n' Roll Suicide, The New York Doll's Trash, and The Sex Pistols' God Save the Queen. The choice of these specific records highlights the connection that exists among them as anthems of Glam Rock and the gender bending tactics of their lead singers and horde of followers. While the origin of the piece is from the world of popular music, the craftsmanship of the lipstick holders evokes the artistry and skill of previous generations' metallurgical designs."
From
New Frontiers 3: Dario Robleto at the Mint Museum in Charlotte,
December issue 1999.
--
I had the good fortune of seeing
I've Kissed Your Mother Twice and Now I'm Working On Your Dad
recently at
the Frye Art Museum
in Seattle. It is part of the exhibit "Dario Robleto: Alloy of Love," a 10-year survey of Robleto's career, currently on view through January 25, 2009, at the
Tang Teaching Museum at Skidmore College,
New York.
For more information on "Alloy of Love" visit:
Art Beat